Are you interested in starting your own photo booth business? If so, you're in luck! Starting a photo booth business is an excellent way to make some extra money while having fun. It's also relatively low-cost and easy to get started.
A successful photo booth business requires more than just setting up the equipment; it needs good planning and marketing as well. In this article, we'll discuss all of the steps needed to start a successful photo booth business from scratch, including how to purchase the right equipment and market your services effectively. So let's get started!
Decide on Your Business Model
The first step in starting a photo booth business is to decide what type of services you will offer. Will you rent out the photo booth for events or have a stationary location? Will you offer packages with props and backdrops, or just the basic equipment? Knowing what type of business model you want will help you determine the rest of your setup and budget.
Here are some ideas to get you started:
Rent out the booth for parties, weddings, and corporate events.
Offer a stationary location in a busy area.
Offer packages with props, backdrops, and prints.
Offer professional headshots and portraits.
Sell the photos in digital or physical form.
Choose Your Equipment
After deciding on your business model, it's time to choose the right equipment. This can include photo booths, printers, cameras, lighting equipment, backdrops, and props. Make sure you research different models to find the right combination of quality and affordability.
Event Rentals
For event rentals, here are some pieces of equipment you'll need:
Portable Photo Booth: You'll need a portable photo booth that you can set up quickly and transport easily. The best ones are light, easy to assemble and have a good range of settings. You can buy a studio tent online or rent one from a photo booth company.
Printer: Choose a printer for high-resolution prints in a variety of sizes and formats.
Laptop or tablet: You'll need a laptop or tablet to control the photo booth, along with specific software for running the booth.
Camera & Lighting: Invest in a good quality camera with manual settings, as well as lighting equipment to give your photos a professional look.
Backdrops & Props: Have fun with backdrops and props to give your photos an extra special touch. Themed backdrops and props can be a great way to stand out from the competition.
Stationary Photo Booth
If you plan to have a stationary photo booth in a public location, you'll need additional equipment such as kiosks and computer systems. These will enable customers to choose their own settings, print and share photos. You can purchase a complete set or use your existing equipment.
Tip: You'll need to scout out the perfect location for your photo booth, such as a shopping mall or tourist attraction. So, it's important to factor in the cost of leasing when determining your budget.
Marketing Your Business
Once you've got all of the equipment in place, it's time to start thinking about marketing your business. The best way to market your photo booth business is by setting up a website and creating some social media accounts. Be sure to include plenty of photos and information about your business on your website, as well as how to contact you for bookings. You should also create some flyers and business cards to promote your business in your local area.
Tip: Consider specializing in a certain type of event or offering unique packages to make your business stand out from the competition. Some ideas to target include weddings, graduation parties, holiday parties, or corporate events.
Related: Create a Photography Website for Your Online Portfolio
Pricing Your Services
When you're ready to start taking bookings, be sure to set up a clear and concise pricing structure. You'll need to decide how much you want to charge per hour, as well as what type of package deals you'll offer. It's important to be competitive with your pricing, but also remember that you need to make a profit in order to keep your business running.
Some examples of pricing packages may include:
Basic package with just the photo booth rental.
Premium package with a variety of props and backdrops, plus digital copies of the photos.
Print packages with prints in various sizes, along with the digital copies.
How much should you charge?
That will depend on the services you provide and your local market. Research other photo booth companies to get an idea of what others are charging. According to WeddingWire, the average couple spend between $425-$1,000 on a wedding photo booth. This can give you an idea of what you to charge for special occasions.
Tip: You should set a minimum hour rate and also provide discounts for longer bookings.
Getting Your Photo Booth Business Started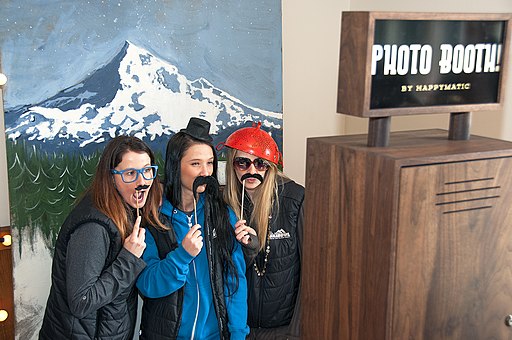 Now that you have all the basic ideas in place, it's time to get started on your photo booth business. You'll need to register your business and obtain any necessary licenses or permits, as well as purchase insurance. It's also important to set up a system for bookings, payments and customer service.
Here are some ideas and routes for you to get started:
DIY Setup: You can create your own setup using just a laptop, camera and printer. This is a great option if you're on a budget, but make sure you have the necessary software and equipment for running your business.
Basic Setup: If you're just starting out, consider buying a complete photo booth setup online. This will include the camera, printer and software needed to get your business running. These setups will have a more professional look and feel than DIY setups.
Rental Setup: You can also consider renting a photo booth instead of purchasing one. This is often the cheaper option, and it allows you to try out different types of equipment before buying your own.
Theme Setup: If you want to stand out from the competition, consider a unique theme or design for your photo booth. This could be anything from vintage-style to a fun carnival theme. Choosing a niche, like weddings or corporate events, can also help you attract more customers.
Professional Setup: If you're looking for a more professional setup, consider investing in high-end equipment. This will usually include multiple cameras and printers, as well as a custom booth design.
Stationary Setup: Finally, you can also set up a stationary self-service photo booth. This requires minimal setup and allows customers to take their own photos without needing an attendant. These can be installed in restaurants, bars or other public spaces and allow customers to take their own photos.
Tip: Don't forget to consider the cost of an attendant. Whether you'll be running the photo booth yourself or hiring an attendant, you'll need to factor in their wages.
Final Thoughts
Running a photo booth business can be an exciting and profitable venture. With the right equipment, setup and pricing structure, you can easily attract customers and start bringing in some extra income. Do your research, create a plan and get started on your business today!
---
Last Updated on October 22, 2023 by Zazoosh