Are you seeking a user-friendly platform to display and market your photography as a photographer? Then SmugMug is the perfect choice. With its intuitive design, powerful features, and top-level security measures, SmugMug offers photographers everything they need to manage their photos, galleries and orders from anywhere in the world. Let's take a look!
Free Trial: Claim your 14-day free trial from SmuMug today
SmugMug for Photographers
Here are 10 reasons why SmugMug is ideal for photographers.
1. Unlimited Photo Storage

If you need a place to store and share your photos, SmugMug has you covered with unlimited storage. You can upload any number of photos and organize them into galleries for portfolio display or client proofing. Plus, you can protect them with watermarks or secure passwords to ensure they don't get stolen.
Details: Get Unlimited and Secure Photo Storage with SmugMug
2. Lightroom Integration
If you use Adobe Lightroom for photo processing, SmugMug makes it easy to upload and share your photos. You can export your images directly from Lightroom to SmugMug with one click.
3. Custom Galleries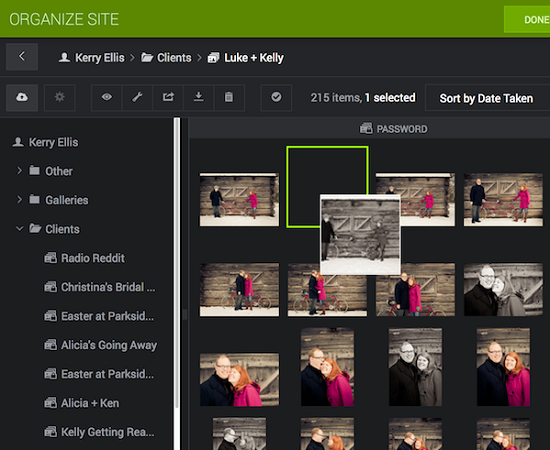 SmugMug makes it easy to create custom galleries for displaying your work. You can customize the look and feel of your galleries, add text or logos, create custom URLs, and even password protect them for private clients.
Free Trial: Start your free SmugMug 14-day trial today!
4. Client Proofing
SmugMug lets you create custom galleries for client proofing and feedback. This makes it easy for you to send out proofs and quickly make changes before delivering the final images.
5. Website Builder with Custom Themes
SmugMug also offers a professional website builder so you can create a beautiful website to showcase your work. You can choose from a variety of templates or customize the look and feel of your site with custom HTML and CSS. You can also setup a custom domain, so that your online portfolio has a professional web address.
Get Started: Create a custom photo website in minutes.
6. E-commerce Platform
SmugMug allows you to create a complete e-commerce platform for selling your photos. You can add shopping cart and checkout features, accept payments from major credit cards and PayPal, offer digital downloads and free shipping, and even set up tax and discount settings.
7. Professional Prints

SmugMug gives you the option to offer professional-quality prints of your photos. You can offer a variety of sizes, finishes, and framing options as well as offer discounts to repeat customers or bulk orders.
Full Catalog: Print Your Favorite Photos on 100's of Items.
8. Mobile Accessibility
SmugMug is optimized for mobile devices so you can manage your photos, galleries and orders from anywhere. Plus, you can easily share images with friends and clients via email or social media. Check out the SmugMug apps here.
9. Support & Security
SmugMug provides excellent customer support to help you with any questions or issues you may have. All plans come with 24/7 live, human support. Plus, they use top-level security measures to keep your data safe and secure.
10. Extra Perks
In addition to all the features we've already discussed, there are other great perks that come with using SmugMug. You can enjoy exclusive deals from their partners, that range range from discounts on photography gear, software, and educational courses. Some of their partners include Adobe Creative Cloud, Flickr, Calibrite, and more.
Related: Top 38 Photographer Resources You Need to Know About
SmugMug Pricing
Next, let's take a look at SmugMug's pricing plans. They offer three plans: Basic Plan, Power Plan and Pro Plan. Whichever plan you choose, the value you get for the price is well worth it. SmugMug offers a 14-day free trial so you can see for yourself how it works.
Ready to get started? Claim your your free SmugMug 14-day trial now!
Frequently Asked Questions
Finally, let's take a look at some common questions people have about SmugMug.
Is SmugMug Free?
No, unfortunately SmugMug is not a free service. However, make $500 in profit during your first year and SmugMug will comp your Pro account annual fee.
Is There a SmugMug Promo Code?
There is no promo code needed to get started with the 14-day free trial. The best way to get extra discounts on SmugMug is to sign up for the annual subscription.
Are There Any SmugMug Website Examples?
Yes. SmugMug has lots of examples of websites built with their website builder. You can check them out here: 9 Great SmugMug Sites We Fell in Love With (So Far)
Is SmugMug Good for Selling Photos?
Yes, SmugMug is a great platform for selling photos. They also have a catalog of 100's of products for you to print your photos on. From wall art to paper prints, coffee mugs, and more. Plus, you can easily add a shopping cart, payment services, and other marketing tools to help increase sales.
Is the SmugMug Printy Quality Any Good?
The print quality with SmugMug is excellent. They partner with some of the best labs in the industry to ensure your prints are of the highest-quality possible. All the labs they work with have excellent color reproduction and solid reputations. The print labs include Bay Photo, WHCC, EZ Prints, and Loxley. Whichever lab you choose, you're fully covered by SmugMug's print guarantee.
Final Thoughts
As you can see, SmugMug is an excellent platform for professional photographers. It offers all the templates, features, and tools you need to showcase your work, manage orders, and even sell photos. Plus, you get excellent customer service, lots of perks, and great value for your money. So if you're looking for a reliable and powerful platform to manage, store and share your photos, SmugMug is definitely worth a try.


Related: Top 7 Photography Website Builders for Stunning Portfolios